Welcome to BELTONE HEARING CARE CENTER


Scott & Sarah Larson, Owners


If you're looking for the best in hearing care, we invite you to discover the Beltone Difference. It starts by making sure hearing trouble is actually hearing loss – many times it's not. If it is, you can try the tiniest and most advanced hearing aids you'll find anywhere – right here in the office. Add to that our compassionate hearing care and comprehensive aftercare, and you'll understand why Beltone patients are so satisfied.
By choosing Beltone, you're assured a lifetime of individualized attention – for you and your hearing instruments.
Start by calling 1-800-485-1596 to make an appointment or simply CLICK HERE to schedule your appointment online. 
All of us here at BELTONE HEARING AID CENTER look forward to showing you how easy it can be to love your hearing!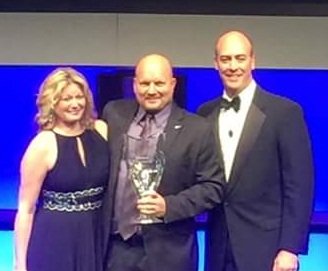 SCOTT AND SARAH LARSON ARE PRESENTED BELTONE'S HIGHEST HONOR
Scott and Sarah Larson were honored with Beltone's prestigious President's Cup Award at Beltone's 2015 National Meeting in Chicago, Illinois.  Since 1958, Beltone's highest honor, The President's Cup is awarded annually to hearing care dispensers who demonstrate exceptional patient care, community involvement and professional business practices. 
The Larson's are truly honored to have received this award and look forward to continuing
to provide stellar care for all of their patients throughout their territory.

Meet Our Staff


Scott Larson: Owner and NBC
Scott Larson has lived in the La Crosse area since 1993. Scott has been with Beltone since 1994, and started with his own practice with one small office in Winona, Minnesota. Today his practice has expanded to twenty-four part time, full time and service center locations in Iowa, Minnesota and Wisconsin. Scott is a NBC-HIS and has been dispensing since 1992. He has a Marketing Degree from Wisconsin-Eau Claire (1992) and is serving as a member of Beltone's National Marketing Council. He is currently licensed in Iowa, Wisconsin and Minnesota and has a strong background in sales. As a hearing care practitioner he sold over 300 aids in nine different years with Beltone. He is a member of IHS and serves as a proctor for the Wisconsin State Licensing Board.  On a personal note, the Larson's have three children.  Scott is active in the community as a volunteer coach for youth t-ball, baseball and football teams. The Larson's have twice been awarded Beltone's Central Region Award. 
To contact Scott Larson directly you may email Scott.Larson@larsonbeltone.com






With convenient locations throughout

the Wisconsin, Iowa and Minnesota area to serve you. 
Please call 1-800-485-1596 for a  location near you

Home Visits are available by request.
SPECIAL OFFER!
Print the gift card below for $1000.00 off of two (2) Beltone Hearing Instruments, or $500.00 off of one (1) Beltone Hearing Instrument.*

Special Introductory Offer
$1000 OFF
A pair of Beltone's latest digital hearing instruments*
Cannot be redeemed for cash value.  Card must be forfeited at time of purchase.