Introducing Beltone's newest Technology!
CLICK HERE to learn more about the Beltone Amaze!





Experience the Beltone Trust  click here to learn more!  
    
A Complete Hearing Experience
Life is short and full of variety. So you need a hearing aid that can keep up with whatever life tosses your way. Beltone Trust™ is our new groundbreaking hearing aid that offers unmatched convenience and adaptability, giving you the best hearing experience available—hear, there or anywhere you are.
Personalized Hearing Experience
Beltone Trust delivers two groundbreaking innovations that mimic the way our ears process sound and communicate with our brain, so you can hear in a more natural way.
Crosslink Directionality 2 – monitors your sound environment to automatically switch to the most natural speech settings, so you can better recognize voices and the direction the sound is coming from. It improves your ability to understand that speech, especially when someone is speaking to you from the side or from behind.

Personal Sound ID-this feature helps restore the natural sound level differences between your ears, allowing you to hear where sounds originate.
Great Sound, Period.
Beltone Trust hearing aids adapt to your surroundings, giving you a new level of hearing quality in a broad range of situations.
Feedback Eraser – cancels out feedback, so there is no annoying whistling or unpleasant noises

Ear-to-Ear Synchronization – gives you a smooth sound transition from one environment to another such as walking into a busy, indoor venue from the quieter outside.

Smart Gain-Pro- automatically adjusts the volume of your hearing aids to give you the best sound quality whether you are in a crowded restaurant or enjoying a quiet walk in the park.
Hear Better, Longer
Enjoy amazing sound quality, connectivity, and the convenience of rechargeable battery technology. Leveraging environmentally-friendly technology from ZPower batteries, Beltone hearing aids can last all day on one charge, and can be recharged every day for up to one year.   ZPower batteries are fast-charging, and only take 2-4 hours at night while you sleep, so you won't miss a thing!
Control in the Palm of Your Hand
If you prefer to adjust your hearing aids yourself, Beltone Trust has you covered so you can do so instantly and discreetly.
Direct Audio Streaming (Made for iPhone) – Wirelessly stream phone calls, GPS voice directions, or your favorite music without having to wear any sort of adapter around your neck!

Beltone HearMax App-The Beltone HearMax app allows you to control your hearing aids from your smartphone.  Just download the app from your phone's app store to adjust volume, listening programs, and much more directly from your mobile device.  Compatible with Apple or Android.
Premier Service. Anywhere, Anytime.
Beltone Remote Care is a Beltone exclusive technology that allows your hearing aid to be fine-tuned by your hearing professional wherever you are. You only need to request service using the Beltone HearMax app and your hearing professional will send new settings that you can download directly to your mobile phone to apply to your hearing aids. Feel confident in your hearing, no matter where life takes you.
Virtually Invisible
Beltone Trust gives you comfort and style with your choice of Receiver-in-the-ear and Behind-the-ear models that come in a variety of colors. The receivers are virtually invisible and built to last with HPF NanoBlock coating that repels dirt and moisture as well as Wind Noise Reduction making it easy to enjoy great sound, even on breezy days.


                     Experience the Beltone Legend click here to learn more!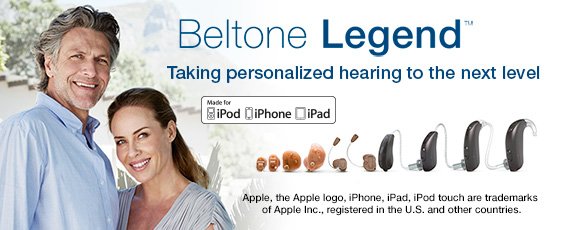 Taking personalized hearing to the next level.
Every person is unique, and so is their hearing. So, a hearing aid doesn't just need to match your hearing loss, it needs to match your lifestyle and individual preferences.
Beltone Legend hearing aids adapt to your unique situation and individual needs better than any other hearing aid on the market. Superb sound quality and speech understanding are the main focus, thanks to Personal Sound ID™ and Crosslink Directionality, but other features like Smart Gain Pro and Feedback Eraser add adaptability, and intelligence. Made for iPhone® integration lets you stream sounds wirelessly to your hearing aids from your iPhone, iPad® or iPod touch®, while the HearPlus™ app allows you to control your hearing aids directly from your iPhone, iPad and iPod touch.
Restores More Natural Hearing
Beltone Legend helps improve hearing with ground-breaking features such as Personal Sound ID and CrossLink Directionality with Personal Sound ID. Personal Sound ID mimics the natural sound level differences between your ears, helping you identify where sounds are coming from.
CrossLink Directionality enhances sound quality by monitoring the sound environment and automatically switching to the most natural speech focus settings. CrossLink Directionality with Personal Sound ID delivers sound the way nature intended. It lets you instinctively choose what sounds you want to focus on, while other hearing aids try to artificially make those choices for you. With these advanced features, focusing on conversation is easy again.
Made to fit you — something for everyone
Beltone Legend stands out as one of the most flexible hearing aids on the market. They are small, virtually invisible and built for everyday life, from indoors to extreme sports and tough weather.  HPF80 NanoBlock™ coating blocks moisture and dirt. The Wind Noise Reduction feature makes being outdoors in windy weather easy for you, by helping to filter out uncomfortable wind noise. Beltone Legend hearing aids are available in a variety of discreet models and colors to suit any taste.
For more information on the Beltone Legend call us at (800) 485-1596 or schedule an appointment today.
Beltone Legend is compatible with iPhone 6, iPhone 6 Plus, iPhone 5s, iPhone 5c, iPhone 5, iPad Air 2, iPad Air, iPad (4th generation), iPad mini 3, iPad mini 2, iPad mini with Retina display, iPad mini and iPod touch (5th generation) using iOS 7.X or later. Apple, the Apple logo, iPhone, iPad, iPod touch and FaceTime are trademarks of Apple Inc., registered in the U.S. and other countries. App Store is a service mark of Apple Inc.


Extend your hearing with wireless accessories for Beltone Hearing Aids
 
Focus on sound like never before.  Direct Line accessories let you wirelessly stream sound from a TV cell phone, PC--even a person--into your hearing aids.  This direct connectivity makes it easy to ear what you want to hear, and tune out what you don't.  Imagine enjoying a hands-free phone conversation and hearing it right in your hearing aids--even when your phone is put away!
Think about easily hearing your favorite TV show in a room full of chatting people.
Other wireless systems for hearing aids simply can't compete. Their limited data transmission compromises sound quality.
Cumbersome relay devices or neckloops get in the way.
The Beltone wireless system is based on the "gold standard" 2.4 GHz frequency band used in today's most advanced wireless products. Our proprietary technology produces a superior audio signal and transmits up to seven times more data than competitors' systems. Sound is exceptional and delays are virtually non-existent.
Whether you are watching television, following a conversation at a distance or talking on the phone, we have a wireless accessory that can help you hear better.
The Beltone Direct Line accessory suite features industry-leading 2.4 GHz wireless technology. Sound streams at the highest speed possible, with amazing fidelity. Hearing is believing. Ask your Beltone Hearing Care Professional for a demonstration today.


Yes we have an app for that!
CLICK HERE to learn about how YOU can control your hearing aids
through our advanced technology apps.






Didn't think you could afford the hearing quality you deserve?
Well, now you can.
Our office has partnered with AllWell Financing to provide you with the financing needed to obtain the hearing device you need and deserve. AllWell is a leading audiology financing company that offers financing flexible financing options and low monthly payments. AllWell provides both a superior alternative to high interest rate credit cards and unparalleled live customer service.
Benefits of an AllWell Payment Plan:
·         Affordable Monthly Payments, 60 month plans
·         Same-as-Cash options available (No interest if paid in full within promotional period)
·         Monthly payments and low interest rate remain the same throughout the life of your loan
·         Absolutely no application cost or hidden fees
·         Convenient payment options: check, money order, credit card, debit card accepted by mail, phone and web
Apply for Free with AllWell online  click here 
or at your provider's office.  You'll get a credit decision within moments and be on your way to better hearing at an affordable monthly payment.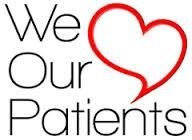 At Beltone you are not just a patient,
you are a part of our Beltone family!



"My hearing specialist is very caring towards his patients. He explains things very well. I am happy that I can hear people and don't have to ask them to repeat. In church I can just sit and listen to the sermon rather than read it up on the prompter. At work I hear the customers well which makes me happy."   Leyla Yunis, Plymouth  

"Thank you for not only helping me with hearing aids, but helping me find compensation for my hearing loss from years of working in a noisy workplace. I did not even know that these benefits were available to me until you told me about them. My settlement has really helped me not only pay for my hearing aids but allow me to purchase some in the future if needed. I would encourage everyone to ask Beltone if their hearing loss qualifies for assistance."   Donn Collins, La Crosse, WI

"I hear TV so much better than I did with my old hearing aids. I like that I can change the setting by just pushing a button rather than messing with a volume control. I can hear my wife much better and she likes that. I like the style and I feel like I hear more than the ones I had in the ear. I am very happy." Hollis McKenzie, Minneapolis  

"I can hear so many things much better; like birds, crickets, and my family. My instruments reduce background noise when I am in a crowd and I can understand what people are saying. I am happy."   Mary Pierce, Waucoma, IA

"I don't have to say "what did you say?". They do really well one on one. I can hear the birds chirping and I don't remember hearing them like this. My wife really notices a difference and I can hear a lot better in the car." Ken Ott, Elk River, MN      

"These are my second set of Beltone hearing aids and I am very satisfied with their quality. I really appreciate the great service Beltone provides. I would recommend them to anyone. "   Walter Mahr, Decorah, IA  

"I was very hesitant to try hearing aids but I will tell you I'm surprised at how much these really help me, my gosh it's quite a difference my kids notice and the TV is much clearer now too." Sylvia Boettcher, Winona, MN

"TV doesn't have to be up so loud.  When the TV is on and I'm not wearing my hearing aids, the people speak a strange language and are not speaking clearly.  When my hearing aids are in, I know what they are saying and know what they mean.  When wearing them, I forget that I have them in.  It's good service:  I'm being taken very good care of, and they are never too busy to see me." Joy Adkins, Rochester, MN    

"I am now able to hear my husband without him having to repeat. Church is much more enjoyable as I can understand the pastor! I am also able to participate in conversations in noisy environments. These hearing aids are very comfortable as well."   Phillis Ecklund, Bloomington, MN  

"I used to have one hearing aid and it was larger and was cumbersome. Now with two smaller aids they are very comfortable and I hear so much better with the two aids now. I serve on a lot of committees and hear in meetings with ease."   Arlene Benrud, Onalaska, WI   

"I like hearing the TV better and when in a group I can now understand what people are saying, where before I couldn't.  My kids did not even know I now wear hearing aids. They just don't see them. They were easy to get used to."   Virginia Simon, Red Wing, MN    

"You can't see them and I love that.  I like the fact that I can hear everybody and can eliminate saying 'what' from my vocabulary.  Especially I like that my specialist was there for me and made hearing again easy.  My kids are happy I can hear them well again.   I hear much better…things I haven't heard for a long time. Family gatherings are much more enjoyable." Joan Kidd, Wykoff, MN  

"I had hearing aids long ago and didn't like them so I quit wearing them. Finally, I was frustrated with not being able to hear so I got new hearing aids and I'm really glad I did! My family gatherings and even bingo are now enjoyable to join in on conversations with my new Beltone True's"   Shirley Nagle, Dakota, MN  

"I can hear my wife better, and that was the most important thing for me.  There are fewer misunderstandings.  I don't miss out on conversations now and I know what is going on.  I hear nature better also."   Cornie Rietveld, Albert Lea, MN  

"The sound is clearer. The TV is at a lower volume and I can hear my soft spoken wife better. I can now hear the grandchildren better. I really enjoy that." Bill Thompson, Red Wing, MN

"My Hearing aids improve my ability to listen to music, understand the TV and join in conversations with others." Chuck Barger, Bloomington, MN

"I was very nervous and self-conscious about getting hearing aids.  I would consider myself younger than most that wear hearing aids.  However, my job seeing patients and attending meetings was becoming increasingly difficult to hear.  It was difficult to do my job.  Wearing hearing aids has made a tremendous difference at work.  I can hear my patients much better and I can hear the soft-spoken women at board meetings too.  Adapting to these hearing aids has been very easy.  I feel more confident in all situations.  My family greatly appreciates it because the TV is down.  I like that they don't whistle and nobody notices them.  My Beltone specialist has been incredible." Dr. Steve Stein, Plymouth, MN

"I'm really happy with my hearing aids. I don't have to turn the TV up as loud. I am definitely hearing more than I used to. They work well at my monthly meetings, which is good. I am able to hear more at church too." James Warren, Brooklyn Park, MN

"I'm thrilled to have my new Beltone hearing aids. It's great to be in the real world again!" Pauline Payzant, Red Wing, MN  

"I can hear my family so much better now!  My hearing aid fits great and we had great service at Beltone!  Our kids threw us an anniversary party and I could hear people talking!  My wife loves it!"   Vern Iverson, Austin, MN    

"I am enjoying hearing better. I hear much better than I did with my old aids. I can forget that I am even wearing them." Karen Cahoy, Fredericksburg, IA  

"This is my first experience with hearing aids and I am very satisfied.  They are so comfortable, I forget they are in!  The people that help me say I hear much better.  I also hear my cat purr which is very comforting."   Betty Thompson, Glenville, MN   

"The staff was very professional. Service is very good which is important in anything. I can hear in groups much better. It gets embarrassing to say what all the time." Russ Nelson,
Ellendale, MN.

"I am hearing a lot of things I haven't heard in a long time. I like that I can cut down the background sounds."  Melvin Grabau, Wykoff, MN

"I had my hearing tested and during the test Beltone recommended Johnson Law to see if I was eligible for a worker's compensation claim due to my noise induced hearing loss. I was awarded a claim that paid for my aid 100%."   Harlan Harper, Onalaska, WI

"My new hearing aids help me hear much better than my old ones. My husband has to be careful with what he says now, because I can hear it all now."  Marj Nordstrom, Melrose, WI  

"I go to Sportsman's club meetings and I was considering not going anymore because of my hearing. I got two hearing aids and my meetings are great. I can hear the guys again." Cecil Buroker, Onalaska, WI