Beltone Hearing Aid MyPal and Remote Combo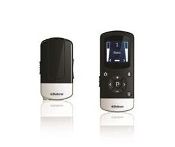 Beltone Hearing Aid MyPal and Remote Combo
For example, place myPAL in front of a TV when you're visiting friends. You'll hear the program at the level you prefer, without affecting what others hear. Or, connect myPAL to your iPod® and hear your audio selections directly in your hearing aids.

Direct Remote Control gives you the power to manage sound with an easy to use handheld device. Direct Remote's big screen and simple controls make is fast to adjust the volume you hear from the TV, stereo and computer. You can also take Direct Remote with you, and discreetly control the volume on the go.

Direct Remote also lets you change your personal environmental programs and check your remote control battery status. The easy to see screen makes it a snap to use.