Beltone Hearing Aid MyPal TV Link Remote Phone Link Combo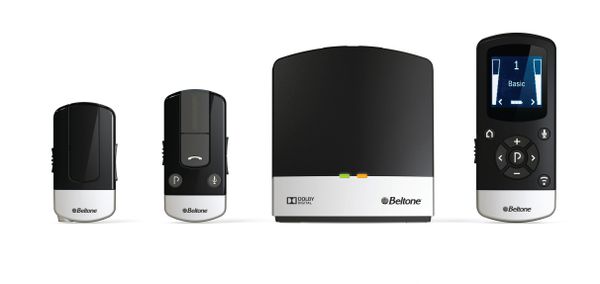 Beltone Hearing Aid MyPal TV Link Remote Phone Link Combo
Beltone myPAL makes hearing so much easier wherever you go. It's a small, portable microphone that's used in many ways. It can be worn by someone speaking; placed in front of an audio source; or, directly connected to an iPod® or MP3 player. The myPAL picks up the sound and transmits it directly into your hearing aids-up to 20 feet away.

For example, place myPAL in front of a TV when you're visiting friends. You'll hear the program at the level you prefer, without affecting what others hear. Or, connect myPAL to your iPod® and hear your audio selections directly in your hearing aids.
The Phone Link is a lightweight Bluetooth accessory that clips to your shirt. When your phone rings, simply press a button on the Phone Link to answer-your phone can stay put away. Then speak hands free! Clear conversation is heard in both ears, without a headset. And, because you hear the phone ring in your ears, you won't miss calls!


Direct Remote Control gives you the power to manage sound with an easy to use handheld device. Direct Remote's big screen and simple controls make is fast to adjust the volume you hear from the TV, stereo and computer. You can also take Direct Remote with you, and discreetly control the volume on the go.

Direct Remote also lets you change your personal environmental programs and check your remote control battery status. The easy to see screen makes it a snap to use.
Now enjoy entertainment at your own personal volume. Beltone Direct TV Link transmits sound from your favorite media devices directly to your hearing aids. Adjust the volume as you please, without affecting what others hear. Receiving sound "wirelessly" also allows you to move around the room freely.
Wirelessly connect to:
Television
Stereo
Radio
Personal Computer
iPod® and iPad®